History
History of Cedar Grove Church of Christ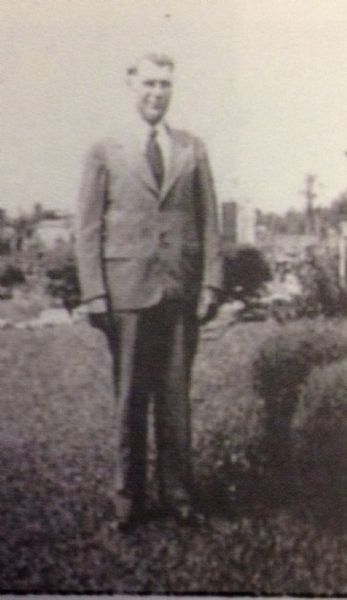 Brother "Tip" Grider


The congregation known as Cedar Grove Church of Christ was established around 1916 as a result of the evangelism of Brother William T."Tip" Grider and local leadership of Burrell Jackson Stokes. A specific motivation for the effort came from a plea made by Mrs. Missouri Lynam, a lady with disabilities, residing in the home of B.J. and Cornelia Stokes. Since it was inconvenient for her to travel to the meetings of the congregation in Andalusia, she asked Mr. Stokes to consider the possibility of their holding services in his home, located in the Adellum community on "Chalk Hill." She explained how she could prepare the Lord's Supper, and he could teach a Bible class and conduct the worship service. They agreed on this plan, and a new congregation of the Lord's people was born.

Very soon afterwards, a series of gospel meetings was held at the nearby Farmers' Schoolhouse on Brewton Road. During these services, a number of members from the Rabren and Stokes families was converted and became the earliest members of the new congregation. The small group began having regular worship services at the nearby Adellum Schoolhouse on Brooklyn Road. (This building stood where the current home of Charles Thomasson is located.) The earliest church leaders who were appointed as elders or overseers over several years included Burrell Jackson Stokes, Sammy Huggins, Monroe Rabren, and Lamar Stokes. The first church building was completed in 1919 on a lot purchased from George F. Rabren on March 22 of that year. Located in a grove of cedar trees, the small facility was immediately known as Cedar Grove Church of Christ. It was constructed out of building materials hauled by mules and wagon from the Horseshoe Lumber Company in River Falls. The style was the popular board and batten with a tin roof. The first meeting-house was used until 1938 at which time it was completely renovated. A larger auditorium was created with sizable wings on each side. These could be easily transformed into classrooms by pulling long curtains. During these years, the classes for the young children were held outside under tall trees and in a church bus. This practice continued until the late 1940s.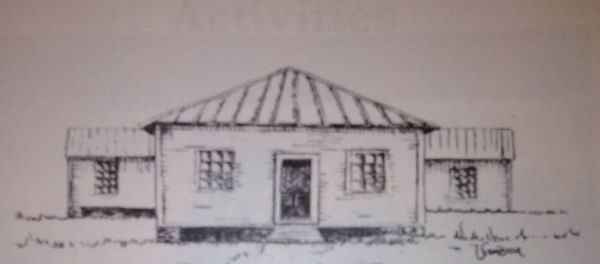 A sketch by Vanessa Baggett of the remodeled church building as it appeared during the 1940's and 1950's
In 1930, Brother Grider assisted the young church in uring the services of its first full-time minister. Brother Floyd Heaton, a young man and recent graduate of Dasher Bible School in Valdosta, Georgia, worked with the congregation for two years. During his tenure, the membership grew, and by 1935, there were 78 in fellowship. The most common family names were Garrett, Fuqua, Huggins, Rabren, Stokes, and Thomasson.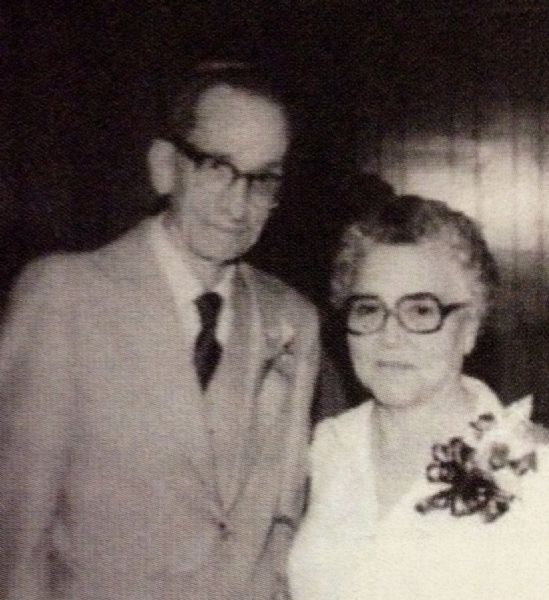 The Registers, Herman and Bert, were honored at Cedar Grove Church upon their golden wedding anniversary, January 15, 1984.
In December of 1947, Brother Herman Register moved from Phenix City to become the ond full-time minister. Before this date, regular Bible classes and worship were held even when there was no preacher available. Occasional speakers included area evangelists and Bible students from Alabama Christian College. With Brother Register's dedication in personal evangelism, radio
programs, tent meetings, and sound preaching, the congregation experienced a period of substantial growth. The evangelism and caring nature of the church increased the membership to 125 by 1955. Brother Register's mission efforts led to the establishment of three new congregations in the county: Clear Creek, Rose Hill, and Shady Grove. (At the present, Rose Hill Church meets occasionally, and the Shady Grove Church is active with an attendance of about 40.)
In 1951, an effort was launched to build a new minister's home. A lot was ured less than a mile east of the church from Charlie E. Thomasson, and the members dedicated themselves to building and paying for the house. The result, a fine modern home, would in later years become the current home of Esker Thomasson. Of course, it has been renovated a couple of times since the Thomassons acquired it. Before the new house, the Registers lived
in the Sid Smith house, located at the site of the current Maurice Rabren residence.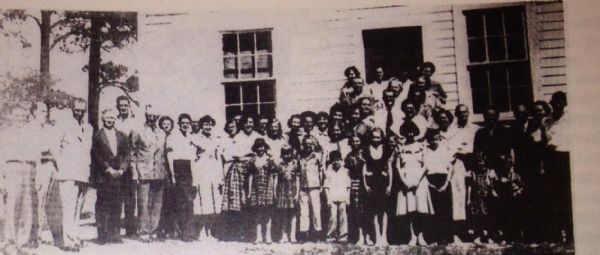 At a reunion in 1953 the Huggins Family gathered in front of the former church building. Ministers Herman Register and Fitzhugh Ellington are third and sixth from the left.
In 1954, a new project was proposed to acquire new pews to replace the worn, slattedstyled benches. The families who were able pledged $65 to pay for a pew. A widow, Sister Ella Boyette, who was short in stature, requested and ordered a lower-seated pew to
accommodate her and other ladies' short legs. (This pew has been retained, and is currently used in an adult classroom.) The above projects helped to motivate the members and encouraged greater spiritual growth before Brother Register moved to Rose Hill in 1955 to serve the Rose Hill and Dozier congregations. In 1955, Brother Albert Fleetwood came to Cedar Grove from Pensacola. His exceptional preaching and teaching continued to strengthen the church and attract new members. A new elder, Clyde Harrison, was appointed, and the membership grew to 135 by April 1956. The first church bulletin and a membership directory were published during that year. A small two-room building was constructed to temporarily serve as classrooms for the younger children. (When the building was no longer needed, it was purchased by J.A. Moore and moved to his residence on Brooklyn Road.) Brother Fleetwood and the elders began to lay plans for a modern brick building that would accommodate the growing church. About that
time, Brother Fleetwood elected to move to Enterprise to serve the church there. During that year of 1957, Brother George Manning came to Cedar Grove as its fourth fulltime preacher. During his ministry, the church building was erected, and the first service was conducted in it on the first Sunday in March 1960. The facilities included the following: 11 classrooms, an auditorium, baptistery, restrooms, nursery, and office. This provided for much
more comfortable congregational assemblies and more effective groupings for Bible classes for all ages. The popular summer gospel meetings, singing schools and Bible schools contributed greatly to the church's progress. In 1959, John D. Stokes, who had served as church treasurer since the mid-1930s, was appointed to serve as an elder.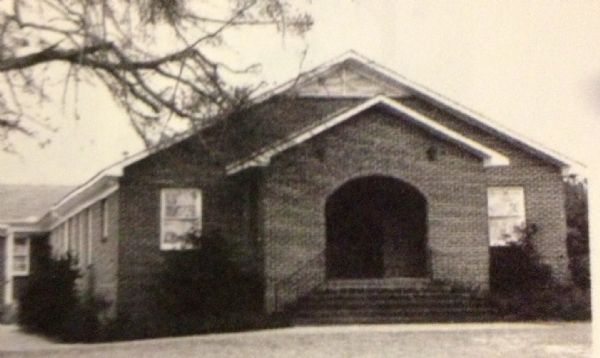 Building was completed in 1960 with the first worship service being held on the first Sunday in March of that year.
When Brother Manning moved to another work in 1960, Brother Robert C. Bates came to Cedar Grove from Anniston. Through his exceptional leadership as a minister and elder, much organization was achieved, which contributed greatly to the work of the church. For the first time, men were appointed to serve as directors of education (Leland Thomasson), personal evangelism (Joe Nall), and youth (Curtis Thomasson). To strengthen these areas of work, a library was organized, audio-visual materials were purchased, and the longstanding, popular vacation Bible school was initiated. A high percentage of the church treasury was budgeted to support a number of foreign and domestic mission works. In 1963, the church property was increased with the building of a spacious minister's home on the church grounds. Brother Bates's carpentry skills and the voluntary work of many members resulted in a valuable facility to accommodate the minister and his family. In 1968, the leadership was increased by the appointment of three new elders: Glover Colvin, Harold Pierce, and Esker Thomasson. In 1969, a majority of the Bible teachers and church leaders attended training workshops at the Madison Church in Nashville, Tennessee. During those years, a strong emphasis on personal evangelism and campaigns characterized the industrious work of the church.
Following Brother Bates's move in 1969 to a ministry in Bay Minette, Douglas M. Williams, a native of McMinnville, Tennessee, came to Cedar Grove from the Ensley Church in Pensacola. With this young minister and experienced elders, the congregation advanced with its broad programs of work. In 1971, an annex to the existing building was completed. This area included the following: Space for five classrooms, large fellowship area, kitchen, restrooms, and a large covered patio area. Within the next year, the auditorium was refurbished with new cushioned oak pews and carpeting. A ond group of teachers attended the popular workshop at Madison and brought added enthusiasm to all programs of work. An exceptional outgrowth of this trip was the creation of an active Ladies' Bible Class, which was centered on the application of Biblical principles. A variety of gift items including homemade quilts were prepared to use for benevolent services. The minister's wife, Glenda Williams, added strong leadership to this class and its projects. It has been praised by the elders and others as one of the most effective works in the history of the congregation.
In September 1978, Brother Williams moved to a new ministry at the Hillview Church in Birmingham. Brother Eugene Lindsey, who had worked the past four years at Hobbs Street Church in Athens, Alabama, was selected to serve Cedar Grove. Arriving in Andalusia on October 1, 1978, Brother Lindsey and his family began a very productive five-year ministry. An extensive personal library and knowledge of history contributed to his outstanding Bible
classes and very stirring sermons. His background in counseling enabled him to serve the congregation in that capacity. He and his family and their hospitality boosted the program of activities for the youth, and he initiated the popular "pew-packers" class for the very young children. During Brother Lindsey's tenure, the church leadership was expanded. Two new elders, Billy Stokes and Leland Thomasson, were appointed and four deacons, Thagard Colvin, Farris Huggins, Charles Thomasson and Curtis Thomasson were selected to serve under the oversight of the elders. Steady growth in the Bible classes prompted the building of a new classroom wing to the annex. The new addition featured eight enlarged classrooms and restrooms. At the same time, the fellowship area was enlarged. The library was enlarged with the addition of 150 new books and the placement of all audio-visual materials in the collection. All materials were catalogued by the Filco system, which made them must more accessible to everyone.
After some five years of service, Brother Lindsey moved on July 3, 1983, to a new work at the College Avenue Church in Enterprise. Brother Arnold Baggett, a native of Brewton, was chosen as the new minister for Cedar Grove. He moved his young family from the church in Crockett, Mississippi. Brother Baggett and his young family were welcomed by an eager membership of some 170 with an active program of work under the leadership of five elders
and the service of six deacons. During Brother Baggett's 14 months stay, the congregation continued to maintain a strong program of work. His ministry to the older members as well as the large group of younger ones was quite effective. There was a strong emphasis upon teaching and activities for the large number of youth. The first pictorial directory was published in 1984 with some 229 individuals included. On May 26, 1985, four additional deacons, Mac Bracewell, Donald Knox, Louie Stough, and Kyle Ray Thomasson, were appointed to assure that all areas of work
would be handled in the most efficient manner.
Although the work was going well, Brother Baggett learned of a need for counselors and house parents at Childhaven. With his educational training and related experience in this field, he and his family chose to move to Cullman and offer their talents to the orphanage Brother Ricky Phillips, a native of Huntsville, became the new minister. He was a graduate of Madison Academy and International Bible College and had previously served churches at Oakman and Greenfield near Gurley, Alabama. He and his wife and young son, Matt, arrived in Andalusia on March 10, 1985. The congregation continued a strong program of work, which was organized into a ministry system. Four additional deacons including Greg Bryant, Phillip Burgess, Charles Grantham, and Jimmy Prestwood were appointed on April 18, 1993. The deacons and other dedicated men were appointed to lead the different ministries. An activity-oriented vacation Bible school was initiated, which has been continued to the present. Several young men, Bible majors from Faulkner University, were employed during thesummers to work as youth-minister interns. A very significant improvement was made in the facilities with the construction of a new auditorium with large foyer, nursery, cry room, sound room, and restrooms. During the period of building, the congregation assembled in the annex fellowship area for worship without missing a single service. A formal dedication of the new facility was held on Sunday, March 20, 1988, with Brother Charles Hodge, a popular visiting preacher of Duncanville, Texas, delivering the dedication address. The annual spring meeting was begun on that date with 296 (an all time record) present for the morning service.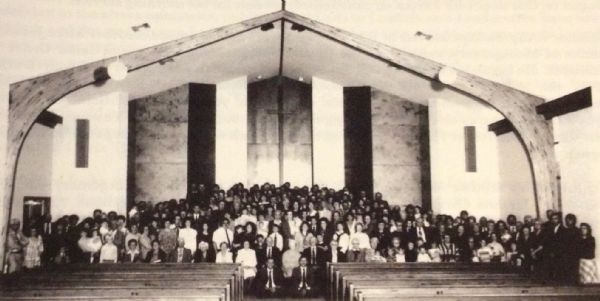 The first worship service in the new building was held on Sunday, March 20, 1988, with this record attendance of 296.
Brother Ricky Phillips moved in July 1996 to a work in Tennessee. Brother Mike Jones, a native of Montgomery, came from the Grant, Alabama, church to serve Cedar Grove as minister. He began his tenure in October 1996, and the work progressed positively. During 1999, the church hired its first associate minister, Mike Ray, with particular responsibilities in personal evangelism. Later that year, three additional men were appointed to serve as elders: Farris Huggins, Louie Stough and Curtis Thomasson. After a year of service, Brother Ray moved to Fairhope to work with that congregation in a similar capacity. In July 2002, Brother Mike Jones left the work and moved to Montgomery where he teaches at Alabama Christian Academy and preaches at area congregations. At that time Brother David Paher, a native of Kentucky, was hired to serve as minister at Cedar Grove.
Brother Paher and his wife came from a congregation in Bedford, Virginia. He earned his preacher training at the East Tennessee School of Preaching in Knoxville, Tennessee. He was a young man at 25 years of age when he arrived in October 2002. Currently the congregation is conducting a number of active ministries: evangelism, missions, benevolence, education, fellowship/care groups, seniors, youth, and facilities and maintenance. With an attendance of about 180 for Sunday morning worship. During the summer of 2004, Steven Foster, a sophomore Bible major at Faulkner University, was hired as a youth minister intern. Cedar Grove continues to be a strong, rural congregation, which has been acclaimed by many as one of the soundest congregations of the church of Christ in South Alabama.
In early 2011, brother Paher left the work and moved to Michigan to work with a congregation there. In May of 2011 brother Eddie Boggess came from La Fayette, GA, to work with Cedar Grove. Brother Boggess was educated at Freed-Hardeman University, receiving a BA in Bible and an MA in New Testament studies.

Gary Davenport, and his wife Terry Jean, became our minister in February, 2020. He has been in ministry for over 40+ years, has ministered in Tennessee, Ohio, Florida, California, Texas, and Oklahoma. Gary has preached at once in 24 states.

They also spent two and a half years in China, two years teaching oral English in Jinghou, Hubei and eight months in Beijing, where Gary was the minister at the Beijing church of Christ while Terry attended a language school learning Mandarin. (see www.garydavenport.org for more details).


History compiled by: Curtis H. Thomasson